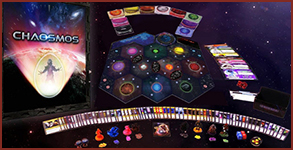 New game company Mirror Box Games will release its first game Chaosmos, a deck building strategy game, after a successful Kickstarter campaign. The trade release is slated for November 2014 at the latest.
The hand-management strategy game pits players against each other in the roles of aliens on a galactic quest to find and secure the Ovoid, every planet's last hope for survival in a collapsing universe.  Players planet-hop to gather weapons and tactical equipment, while using deception and misdirection to outwit opponents.  The player in possession of the Ovoid victory card on the final turn wins.
The box contains a modular board, eight 35 mm plastic injection-molded aliens (each with unique powers), 10 player fields, 10 planet effect tokens, a Barren Planet hex, Wormhole tiles, a Singularity Gate hex, 6 game variants, a history of the Biocosm, cards and more.
The game is for 2 – 4 players, ages 10 and up, and plays in 60 – 90 minutes.  Tentative MSRP on the game is $64.99.