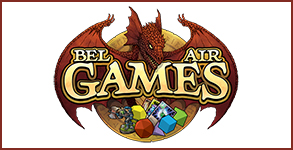 Bel Air Games will be opening in spring of 2014 in Bel Air, Maryland…not Bel Air, California.
We're creating Bel Air Games to give gamers of all ages and flavors a fun, family-friendly environment for enjoying your favorite games. We're building an extremely large play space to accommodate a wide variety of games, tournaments and other events – many of them occurring at the same time.
We will strive to present a constantly changing selection of new games and gaming items for your purchase, while stocking your favorites to the best of our ability.
Our service will never be less than exemplary, if it is, we hope you'll tell us so we can correct any issues. We will happily special order items and pursue them as promptly as possible. We will also accept and track pre-orders. Both of these services are offered without security deposits.
Our events will be numerous and professionally run. We want you to be comfortable playing in our spacious environment, secure that you're supported by a knowledgeable group of staffers and Game Ambassadors and that the playing field is always level.
In short, we want Bel Air Games to be the place you wish you were when you aren't…except for home of course – there's no place like home.
Thanks,
Dave Bowen – Owner, Manager
and
Michael N. Moore – Manager