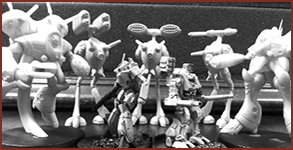 Palladium Books has announced a new release date for Robotech RPG Tactics, plus additional information about the first releases for the game.  The main box game and the first six expansion packs are now expected to ship in June, with "unbridled enthusiasm and lack of experience" blamed for the previously announced release date(s).  The game was originally announced as a Fall 2013 release, but was pushed back to February 2014 in November.
Final prices for the trade release were also announced.  The main box game will be priced at $99.95, with the expansions prices as follow:
UEDF Valkyrie Wing  $36.95
UEDF Destroid Pack $32.95
UEDF Spartan Pack  $32.95
Zentraedi Regult Battlepod Squadron  $36.95
Zentraedi Support Battlepods  $36.95
Zentraedi Command Pack  $36.95
Robotech RPG Tactics is the #6 highest-grossing tabletop game funded through Kickstarter, with over $1.4 million raised from around 5300 backers.