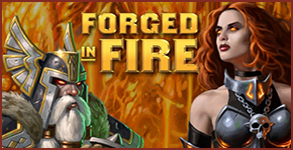 Arcane Wonders has announced plans for Forged in Fire, a new spell tome expansion for its customizable strategy game Mage Wars, as a "spring / summer" release.
Forged in Fire was to be based on the Conquest of Kumanjaro spell tome expansion and released in February, but has now been pushed back to allow for content changes, per Arcane Wonders Mage Wars Facebook page.
Arcane Wonders said the new expansion will introduce an alternate female Warlock and an alternate dwarf Warlord who will "battle for control of the precious resources of the Mountains of the Anvil Throne."
The last Mage Wars expansion was October's Druid vs. Necromancer.