Michael Moore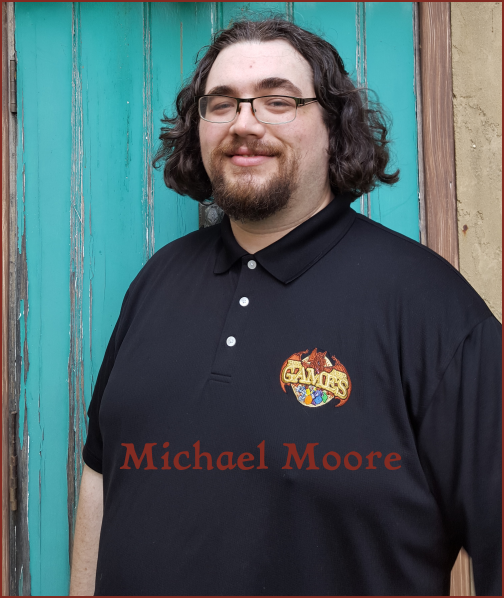 Biography
     At first encounter, Michael, at 6' 5" tall…plus significant upward-trending hair, can seem like a daunting presence, but he's truly an even-keeled gentle giant. Michael's middle name, Newton was not in honor of the famous Fig Newton cookies, but the even more famous Sir Isaac Newton, genius mathematician and natural philosopher who is widely credited (correctly) for postulating the first theory of gravity and often credited (incorrectly) for inventing calculus.
Michael's massive brain power (he was the team captain for Oxon Hill High School's "It's Academic" scholarly TV team) is now employed in service of finding, testing and teaching an enormous variety of games for your enjoyment.
What was your first game?
     Probably Memory, which despite what they tell you, did not help.  My first modern game was Munchkin, which I played at the game club at University of Maryland.
What is your current favorite game?
     Right now I'm really hyped to play Sentinels of the Multiverse. It is a fast easy cooperative card game that has all the goofiness of Silver Age Comics, so I adore it.
Why do you game?
     I game because it is a great excuse to hang out with friends or meet new ones, it gives structure to interactions with new people, and in general it helps building all kind of skills.
What do you bring to Bel Air Games?
     I'd like to say that it is my enthusiastic love for just about any game I've ever played, and my near encyclopedic knowledge of Star Wars and Star Trek. In reality, I think I am important here because I can reach everything on the tall shelves without a step-stool.
What is a quote that you would say describes you?
"Never trust the person smiling after they looked at their hand (Or Role)."
Also, ditto what Scott said.