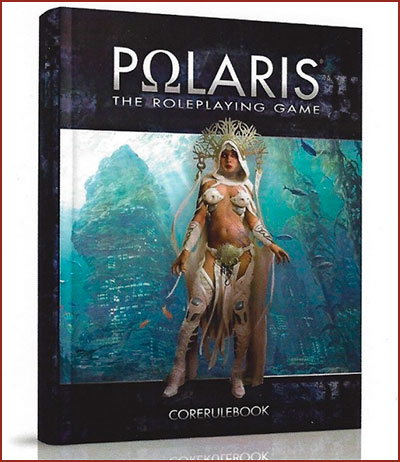 Thanks to a deal between Paizo Publishing and a French Role-Playing Company with the odd name Gob In Tux Publishing, 2015 will see the realease of an English language version of the Polaris Role-Playing game.
The premise of the Polaris setting is that long ago the surface of the earth became extremely hostile and uninhabitable, forcing humanity to seek refuge under the sea. Initialy humanity was under the rule of the legendary, despotic and technologically advanced "Geneticiens", but an alliance put an end to their empire.
Since then most underwater stations are still isolated and vulnerable to pirates, surviving as best they can – or not. Large nations have risen, but conflicts plague the oceans, and ontop of its widespread misery humanity faces a new problem as everywhere the human fertility mysteriously drops.
However, recently a cult which uses a mysterious ability called the Polaris effect, the Trident Cult, has managed to impose itself as a neutral force enforcing a fragile world peace from its neutral station of Equinox which has become a hub of trade, negociation and espionnage.
In this setting the players can be any sort of mercenary or scavengers, normal human or hybrids who do not needs a breathing apparatus in the water, independant or in the employ of the Trident Cult, facing giant underwater creatures or trained soldiers.
According to industry source ICv2, the 400-page Polaris Core Rulebook is planned for October release.  Retail price will be $50.
Additional Polaris RPG products will include a Game Master's Screen and sourcebooks:  Bestiary, Technology Guide, Hegemony, Priates, Surface, Coral Republic, Polar Alliance, Mediterranean Union, Amazonia, and Secrets.
According to ICv2 a Polaris boardgame and novels are also planned.